Repairs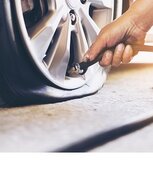 We have not been accepting latex repairs for quite some time now. The reason is that we are mainly engaged in making latex sheets and we no longer have time for repairs.

But you can easily repair latex yourself! If you can stick a bicycle tire, or put a patch on your leg if you have a fall, you can also repair latex clothing. For real? Yes really! We sell repair kits that you can put together yourself and you can also order the video where it is explained.

Click here and order the set.

What else do you need?
Thinner (we work with thinner from Gamma or Karwei, the cheap 'OK' brand, 3 to 4 euros per liter).
Zipper torn?
Then you need latex glue AND zipper glue, because the textile of the zipper does not stick with latex glue on latex. First coat the zipper with zipper glue, let it dry well, and then a layer of latex glue, and only then on the latex.
And then?
Read the manuals of the adhesives and tips on thinner for the best result. Click here